Dreamoval Foundation in collaboration with SAP, Cape Town Science Center and the Ghana Education Service successfully organized the 2017 edition of the Africa Code Week, Train-The-Trainer workshop from the 2nd to the 4th of August 2017. The year's edition saw a grand launch of the workshop in the Ashanti region, precisely the G.N.A.T (Ghana National Association of Teachers) hall. The inauguration in Kumasi occurred on the 2nd of August, 2017 and was performed in the august presence of Honorable Barbara Asher Ayisi Acher, Deputy Minister of Education, in charge of Primary and JHS along with some members of the SAP Executive team, Business One team and teachers in the region.
What ACW is and seeks to achieve.
Africa Code Week(ACW) is a continent-wide initiative to spark the interest of African children, teenagers and young adults in software coding. Spearheaded by SAP in 2015 as part of its social investments to drive sustainable growth in Africa, Africa Code Week (ACW) is the story of hundreds of schools, teachers, governments, businesses and nonprofits getting together to give birth to the largest digital literacy initiative ever organized on the African continent. Strong public-private partnerships are the driving force behind the initiative's ambitious goals and ability to secure effective youth employment interventions across the continent. Ghana ranked third in 2016 with a total of 51,710 trained students.
In preparation for live October events of ACW, SAP deploys its own teams of skilled volunteers as part of its Corporate Social Responsibility Program. Their mission: train thousands of teachers, parents and local volunteers throughout the year, all over Africa. These Train-the-Trainer (TTT) sessions scale the Africa Code Week reach over all the continent by empowering teachers with skills and teaching materials that facilitate the integration of coding into the school curriculum. TTT implements these sessions in collaboration with selected organizations in participating countries.
TTTs are the cornerstone of Africa Code Week's sustainability and its ability to positively impact the lives of millions of young people along the way. Leveraging freely accessible materials and teaching tools, TTTs provide a sound, replicable structure for inter-group knowledge sharing, unlocking the potential of people to serve as resources for each other.
This year, in Ghana, a total of 977 teachers were trained to use Scratch during the workshop. Out of this figure, 435 teachers were trained in Kumasi with 494 teachers and 48 circuit supervisors trained in Accra. This number is a huge leap from 2016's workshop session, which trained 370 teachers in Accra, and the year's target- which was to train 800 teachers in Accra and Kumasi.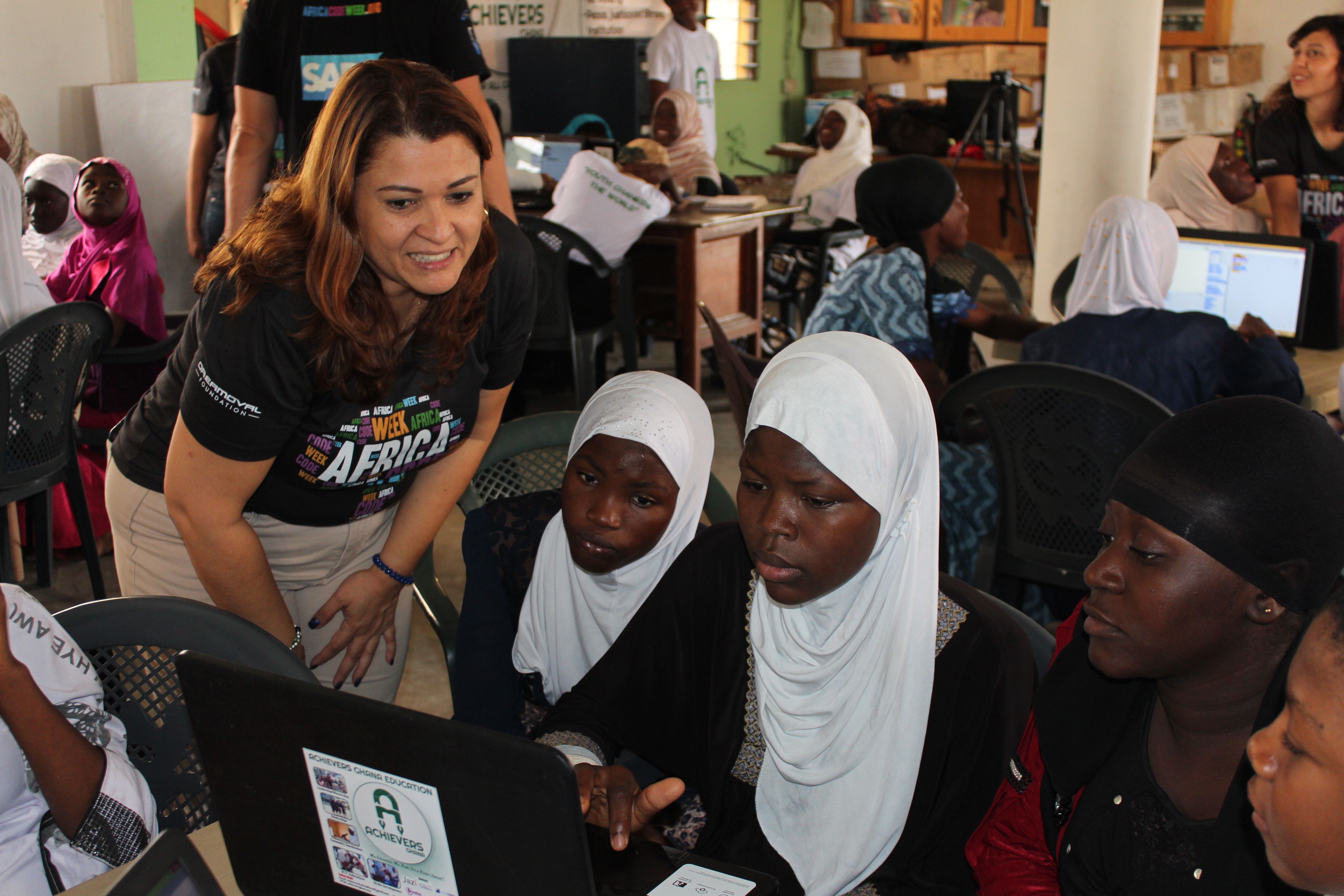 Volunteers from SAP Executive and Business One team, extended their reach by training 52 girls from the Achievers Ghana on 1st August, 2017. Achievers Ghana is a nonprofit, nonpolitical, nonreligious organisation with a mission to inspire, educate, and equip girls in slum communities with the necessary skills to pursue every opportunity that is available to them in order to be responsible and useful citizens. The organisation is presently at the community level with over 350 girls in the program after being incorporated under the Companies Code, 1963 (ACT 179) on the 22nd of November, 2011.
For the training sessions, the team from SAP had representatives from a number of countries namely: Ireland, Egypt, Singapore, South Africa, America, France, Poland and UK. The group numbered 19 individuals with 4 executives. Seven (7) of these team members were stationed in Accra and eight (8) stationed in Kumasi for the training sessions. Workshop sessions in Accra were organized at The Advance Information Technology Institute- Kofi Annan Centre of Excellence (AITI-KACE) and Ashanti Region's T-T-T sessions were held in two centres- KASS (Kumasi Anglican Secondary School) and AMAS (TI -Ahmadiyya Secondary School).